Hi everyone cold and windy weekend after weekend so no fishing rough seas out there so stew it is to warm us up this is a lighter stew because I use chicken and white wine but very filing and will most definitely warm your bellies up!!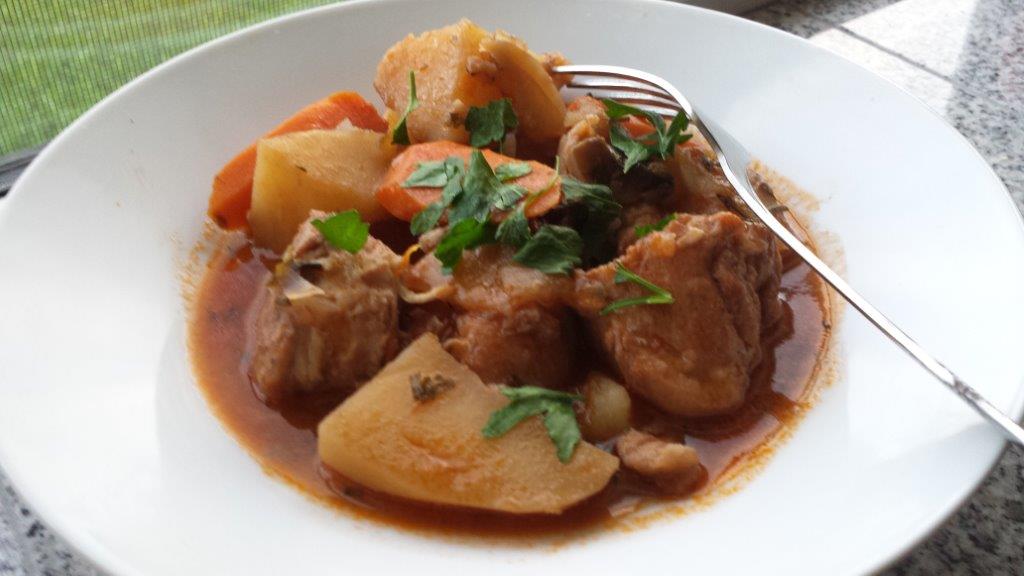 Chicken Rosemary Wine Stew
¼ cup extra virgin olive oil
1 pound boneless chicken breast cubed
½ cup all-purpose flour
1 teaspoon sea salt
1 teaspoon cracked black pepper
1 ½ tablespoon tomato paste
3 carrots peeled and sliced
5 small potatoes cubed any kind you like
1 cup rutabaga cubed
8 oz. mushrooms
1 small onion finely chopped
¼ cup fresh parsley
2 rosemary springs
2 ½ cups low sodium chicken broth
2 ½ cup dry white wine
On medium high heat on stove top add ¼ cup oil to a Dutch oven. In mixing bowl mix flour, salt and pepper add chicken cubes to flour and coat chicken well.
Add chicken cubes to the Dutch oven but do not crowd the pan and braise chicken cubes in olive oil on both sides just until a nice crust forms on the chicken you may want to do this in two batches.
To the braise chicken add tomato paste, carrots, potatoes, mushrooms, rutabaga, onion and parsley. Mix until chicken and veggies are well coated with the tomato paste. Add chicken broth, wine and rosemary. Bring to a simmer, cover and cook for 2 hours or until vegetables are fork tender.