Perfect for Valentine's dessert! Elegant but super easy to prepare and can be made the day before. Move over chocolate hello Strawberries!!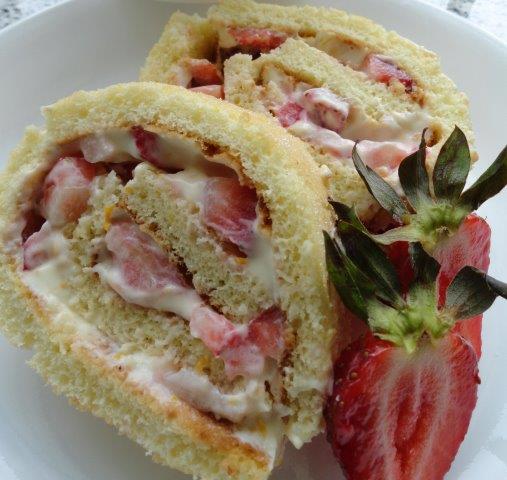 Prep: 25 minutes bake:12 minutes serve 6.
3 medium eggs
½ cup sugar plus 4 tablespoon extra
¾ cup flour
½ cup vanilla yogurt
½ cup Philadelphia original whipped cream cheese
1 teaspoon orange liqueur (optional)
1 tablespoon grated orange rind
1 cup strawberries, hulled and cut into quarters
Preheat the oven to 425 degrees. Lightly greased and line a 9 x 13 inch jelly –roll pan with baking parchment.
Using an electric whisk, beat the eggs and ½ cup sugar until the mixture has doubled in volume and leaves a trail across the top. Fold in the flour with a rubber spatula until well incorporated. Pour into the prepared pan and bake for 10 to 12 minutes until well risen and golden.
Place a whole sheet of baking parchment out on a clean, flat work surface and sprinkle evenly with 2 tablespoons of sugar. Turn the cooked sponge out onto the paper, discard the paper, trim the sponge, and roll up, encasing the paper inside. Set aside until cool.
To make the filling, mix together the yogurt, cream cheese and the 2 remaining tablespoon of sugar, liqueur and orange rind. Unroll the roulade and spread over the mixture. Sprinkle with the strawberries and roll up. You may garnish with sliced strawberries ( optional) This could serve up to 8 depending on thick you like you slices.