Superbowl is this weekend. Looking for a new flavor of wings to grill out this year well look no further I have the perfect flavor a little sweet a little heat and a little smoke they are finger licking good you may want to triple the recipe you are going to want more I promise and they are super easy to make. Enjoy!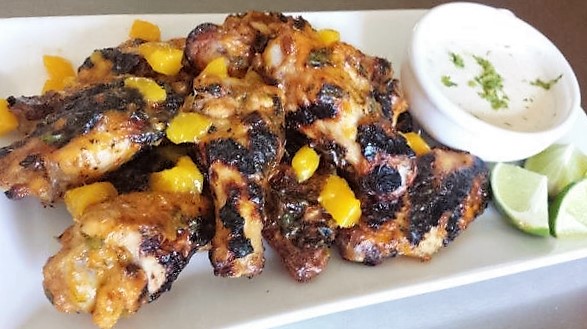 10 oz. mango peeled and chopped (about 1 ½ fresh mango)
2 limes
2 tablespoons cilantro
1 tablespoon sriracha hot chili sauce
5 wings
¼ teaspoon pepper
¼ teaspoon sea salt
¼ cup extra virgin olive oil
½ cup ranch dressing
2 cups cherry wood chips
Preheat grill on medium high heat.
In a small food processer adds 8 ounces mango chunks, cilantro and sriracha. Blend until a smooth sauce.
With a meat cleaver cut wing tips off and separate the drumette from the wing season wings with salt and pepper.
In a medium bowl toss wings with half of the mango sauce. Let sit 10 minutes.
In the center of a large piece of aluminum foil place wood chips fold aluminum foil over the chips and seal to form a pouch with a sharp knife make a few cuts in the aluminum pouch so smoke can escape.
Place pouch on the right side on grill and cover for 10 minutes to get the wood chips to start smoking.
Brush the left side of the grill top with olive oil to prevent sticking. Reduce heat to medium place wings on the oiled side of grill close cover and grill 8 minutes. Turn wings and brush with some of the sauce close cover and grill 8 more minutes. Turn wings one last time brush more sauce close lid and cook an additional 5 minutes. Brush wings with the remaining of the sauce plate.
Zest & juiced one of the lime and add to ranch dressing and mix until well incorporated.
Roughly chopped the remaining 2 ounces of mango chunks and top the wings. Serve with lime ranch dressing and lime wedges.