Pot Stickers with a Red Chili Pineapple Dipping Sauce
3 tablespoons extra-virgin olive oil
3 cups fresh spinach chopped fine
½ cup onion chopped fine
¼ teaspoon salt
1/4 teaspoon pepper
1 pound ground turkey
2 garlic cloves minced
1 tablespoon ginger paste
3 tablespoons A.1. Original Steak sauce
12 ounces all natural wonton wraps
¼ cup low sodium soya sauce
1 small red chili pepper deseeded finely chopped
½ cup pineapple cubed
1/3 cup water
2 tablespoons cilantro chopped
2 green onions chopped fine
In a large non- stick frying pan on medium high heat add 1 tablespoon olive oil, spinach, onion and salt & pepper. Sauté until onions are tender and spinach is wilted. Set aside
To a large mixing bowl add ground turkey, garlic, ginger paste, 2 tablespoons A-1 steak sauce and the sautéed spinach mix all until well incorporated. On a clean surface lay out wonton wrappers a dozen at a time place ½ teaspoon ground turkey mixture in the middle of each wonton. Wet your finger fingers with water and brush a little water on the edge of wonton wrappers fold over the filling and with a back of a fork press wonton together to seal all the way around repeat until you run out of wonton wrappers and filing.
In two separate large nonstick frying pan heat up remaining 2 tablespoons oil add wonton to pan fry 2 minutes turn and fry additional 2 minutes. Add ¼ cup of water to each pan cover with lids lower heat to simmer and let wontons steam for 5 to 7 minutes. If your pans are not large enough you will need to cook pot stickers in multiple batches.
While pot stickers are cooking to a mini food processer add soya sauce, red chili pepper, remaining table spoon A.1. steak sauce, pineapple brown sugar, water, cilantro and green onions pulse until well combine into a sauce.
Serve pot stickers warm with side of dipping sauce. You may garnish with chopped chives.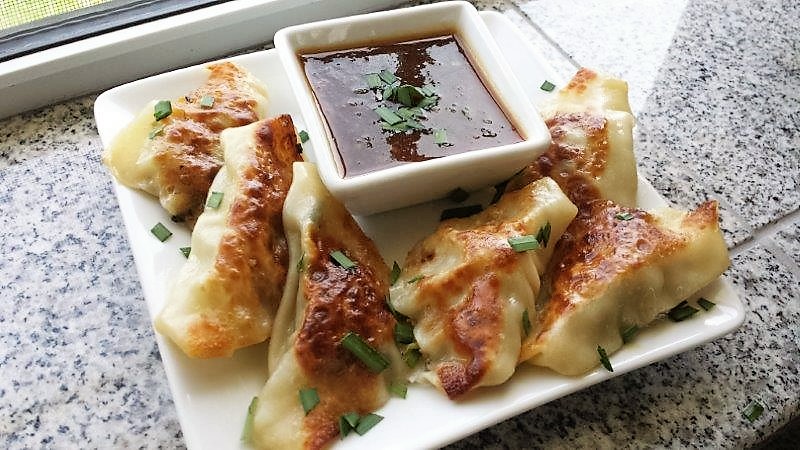 Kickin Southwestern Wings with Chile Lime Dipping Sauce
20 wings
1 cup flour
1 tablespoon chili powder
1 tablespoon paprika
1 tablespoon ground cumin
½ teaspoon salt
½ teaspoon pepper
4 cup canola oil
1 cup medium enchilada sauce
4 tablespoons butter
2/3 cup mayonnaise
¼ cup buttermilk
1 tablespoon red onion chopped fine
1 lime zest
1 tablespoon lime juice
1 tablespoon mild green chiles diced & drained
1 tablespoon cilantro chopped fine
Preheat oil in a deep fryer to 375 degrees.
In a small mixing bowl add mayonnaise, buttermilk, red onions, lime zest, lime juice, diced chiles and cilantro with a whisk until well incorporated and refrigerated until serving.
In a large zip lock bag add flour, chili powder, paprika, cumin, salt & Pepper. Add wings to flour mixture close zip lock bag and shake until wings are well coated. Remove wings and shake to remove excess flour mixture. Add wings to fryer but do not crowd the fryer, you may need to do this in a couple batches. Cook wings 14 minutes shake excess oil.
While wings are cooking on stove top in a small sauce pan add enchilada sauce and butter and heat through until butter is melted.
In a large stainless still bowl add hot enchilada sauce and wings and toss until wings are well coated with enchilada sauce. Serve immediately with dipping sauce.

Smoky BBQ Hot Buffalo Spare Ribs with Blue Cheese Dipping Sauce
3 ½ pounds St-Louis Style pork spare ribs
2 onions
2 carrots
2 cups Gnarly Head Authentic White wine
Rub-
1/3 cup brown sugar
1 tablespoon iodized sea salt
1 tablespoon ground black pepper
1 tablespoon Southwestern chipotle seasoning blend salt-free
1 tablespoon paprika
1 teaspoon garlic powder
1 teaspoon celery seed
Sauce-
1/3 cup butter
1/3 cup hot sauce
1 tablespoon brown sugar
1 tablespoon ketchup
1 tablespoon Worcestershire sauce
½ teaspoon garlic powder
Dipping sauce-
2 ounces blue cheese crumbles
1 cup sour cream
1 tablespoon milk
1 tablespoon chives chopped fine
2 celery stalks
Preheat oven 300 degrees.
Chop onions and carrots in large pieces and place in a non-stick deed pan approximately 14x10x2 pour the 2 cups of wine in the pan and set aside.
In a small food processer place all of the rub ingredients grind until all ingredients are well combine. Cut rib rack in half too fit in the pan. Rub both sides of ribs with equal amount of rub. Place ribs on top of the vegetable and cover pan tightly with aluminum foil. Bake 1 hour 40 minutes. Remove ribs out of the pan and place on a platter top the ribs loosely with aluminum foil and let rest for 15 minutes.
While ribs are resting add to a small sauce pan on medium heat the glaze ingredients cook 3 minutes while whisking a few times. Remove from heat.
Turn oven to broil. Discard the wine and vegetable from rib pan. Brush the ribs on both sides with glaze. Place ribs on top rack of oven and broil 5 minutes turn ribs and broil an additional 5 minutes on the other side. Remove ribs from oven and let rest for 5 minutes.
While ribs are resting mix in a bowl the dipping sauce ingredients excluding the celery.
Cut ribs in individual pieces serve with dipping sauce and celery pieces