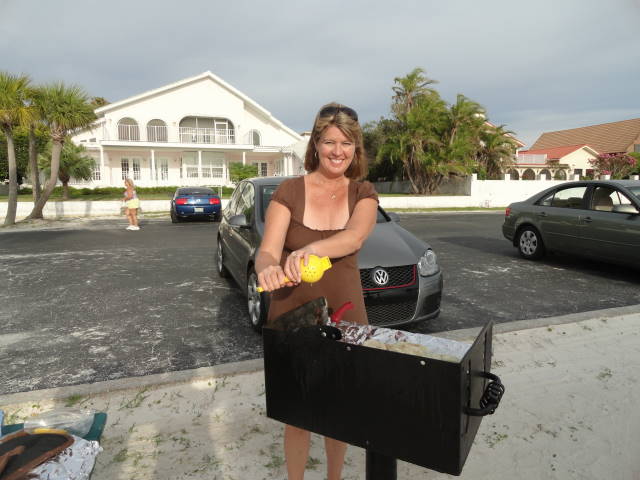 You know it this is the day most people grill out and have cookouts so you know there are no exceptions at my house! Of course I'm grilling fish at the beach with friends and family! Change it up this year and grill fish with a lemon & herbs sauce serve with Shrimp & egg salad avocadoes and other good fixing. Here are a few of my Off the Hook recipes for Memorial Day! Enjoy!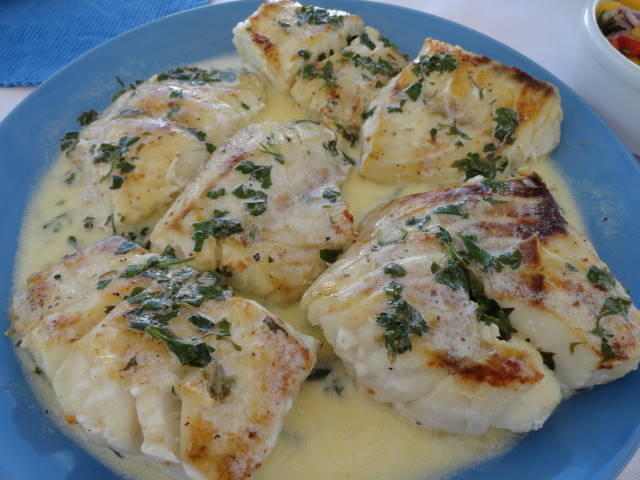 Grilled Grouper with creamy lemon & herbs sauce
1 pound grouper filet cut in 4 pieces or substitute with cod or haddock
2 tablespoons light olive oil
1 teaspoon Sea salt
2 tablespoons butter
2 tablespoons parsley chopped fine
¼ cup lemon juice
¼ cup half & half
Pinch sea salt and crack black pepper
Coat fish with olive oil and season with sea salt on both sides. Place fish on a hot grill and grill until edge of the fish turns white approximately 6 minutes turn and cook an additional 4 minutes or until fish easily flakes with a fork.
In a small sauce pan on side burner of grill add butter and herbs when butter is melted add lemon juice, half & half whisk and bring to a boil. Remove from heat plate fish and pour sauce over fish. Serve immediately!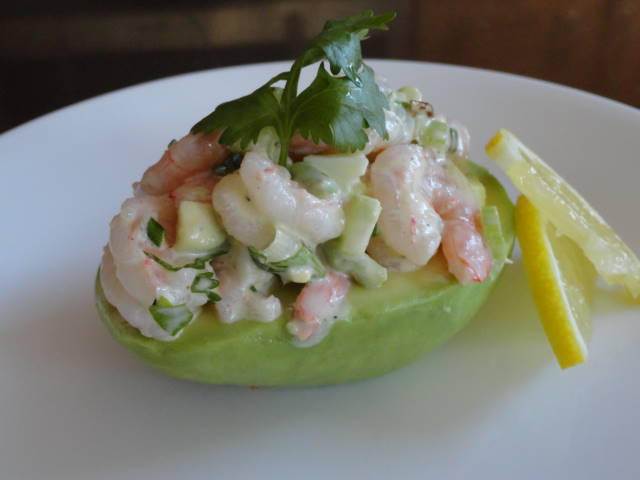 Guacamole Shrimp & Egg Salad Stuffed Avocadoes
Serves: 4
2 Hass avocadoes from Chili
½ lb. medium shrimp deveined & peeled
1 teaspoon old bay seasoning
2 tablespoons lemon juice
¼ cup mayonnaise
1 hard boiled egg chopped fine
2 green onions chopped fine
1 celery branch chopped fine
1 teaspoon guacamole seasoning mix
2 tablespoons fresh cilantro chopped fine.
Sea salt & crack black pepper
Cut avocadoes in half remove pit and skin. Cut a thin slice at the bottom of each avocado halves so they sit flat on a plate. Sprinkle 1 tablespoon of lemon over avocadoes to prevent from turning brown.
On stove top in a small pot of water seasoned with 1 teaspoon old bay seasoning add shrimp bring to a boil and cook shrimp just until they turn pink and start to curl. Drain and let cool completely.
In a small bowl mash the thin slices of avocado you previously cut off the bottom. Add remaining lemon, hardboiled egg, mayonnaise, green onions, celery, shrimp, guacamole seasoning mix and a pinch of sea salt & cracked black pepper and mix well. Take shrimp mixture and fill each avocado.