It's the time a year where most of us are starting to grill out more as the weather has warmed up. This week I'm sharing with you all a recipe I created for a potato salad recipe contest and let me tell you move over old fashion potato salad this one was a winner in my book! Not only it will become your very favorite potato salad to take to barbecue as a side dish but it's fantastic with fried fish! Try it out let me know what you think!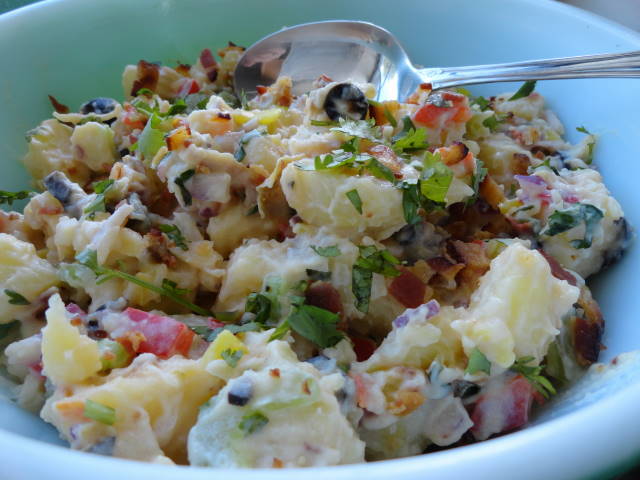 Garden Vegetable Potato Salad
7 medium Yukon gold potatoes peeled, cooked, cooled and cube in (1 inch cubes)
1/2 cup chopped celery
½ cup chopped red bell pepper
¼ cup sliced black olives
¼ cup chopped banana pepper rings
5 slices cooked bacon crumbled
½ cup chopped cilantro
1 envelope of Knorr vegetable recipe mix
½ lemon juiced
½ cup light sour cream
½ cup light mayonnaise
Cook potatoes in salted water on stove top until potatoes they are fork tender drain and let them cool enough to where you can handle cutting them into 1 inch cubes.
Place cubed potatoes in a large mixing bowl and add the next seven ingredients and toss gently. Next in a separate mixing bowl mix lemon juice with sour cream and mayonnaise pour on top of potatoes and toss until all of the potatoes are coated well. Refrigerate until time to serve or can be made the day before.