Monthly Archives:
January 2014
Baby it's cold outside! It's our winter season and we experience many cold days in a row and it feels like you just cannot get warm well rest to sure I have the perfect remedy for you My awesome spicy fish soup not only will it warm you right up but your entire family will love it and is another fabulous way to add fish to your diet. You are going to love this one it's super easy go ahead try it out use any white fish available to you in your area!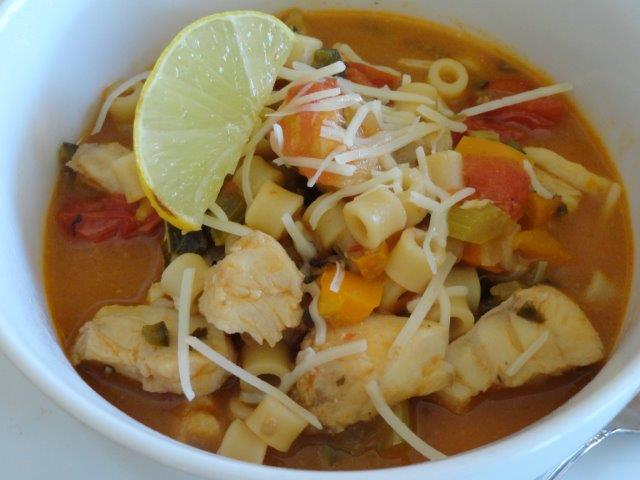 Serve: 4
2 tablespoons extra virgin olive oil
1 celery branch chopped fine
1/2cup yellow pepper chopped small
2 garlic cloves chopped fine
¼ cup chopped Spanish onion
1 cup cherry tomatoes cut in half
¼ cup cilantro chopped fine
2 tablespoons fresh basil chopped fine
1 jalapeño deseeded and chopped fine
1 teaspoon garlic pepper sauce (Tabasco)
4 cups fish stock
1 cup clam juice
½ lemons juiced
1 tablespoon tomato paste
½ cup Ditalini pasta
½ pound firm white fish cubed in 1 ½ inch cubes
Pinch sea salt & cracked black pepper
½ cup shredded parmesan
In a large pot on medium high heat add first 10 ingredients and sauté for 4 minutes. Add remaining ingredients mix well bring to a boil and cook until pasta and fish is cook about 15 to 17 minutes. Serve hot topped with shredded parmesan.
Well my friends I'm starting the New Year with a lighter version of my original fish cakes you will love these! I'm wishing you all a Happy New Year and good health and happiness in 2014!

1 pound cooked white fish shredded any will do (I used grouper)
¾ cup panko style bread crumbs
¼ yellow onions finely chopped
¼ cup yellow bell pepper finely chopped
2 tablespoons cilantro finely chopped
1 teaspoon old bay seasoning
¼ teaspoon crack black pepper
3 tablespoons light mayonnaise
2 tablespoons light virgin olive oil
1 tablespoon butter
In a large bowl, combine the cooked fish, bread crumbs, onions, bell pepper, cilantro old bay seasoning, crack black pepper and mayonnaise. Mix until will incorporated. Form into 8 small cakes. Cover cakes with plastic wrap and refrigerate at least 1 hour.
Place the flour on a sheet of wax paper and lightly coat the cakes with flour.
In a large non-stick skillet, melt butter with olive oil. Cook fish cakes until golden brown and crispy 4 to 5 minutes on each side.