Salted Cod Lasagna Roll-Ups with Lemony Roasted Pepper Sauce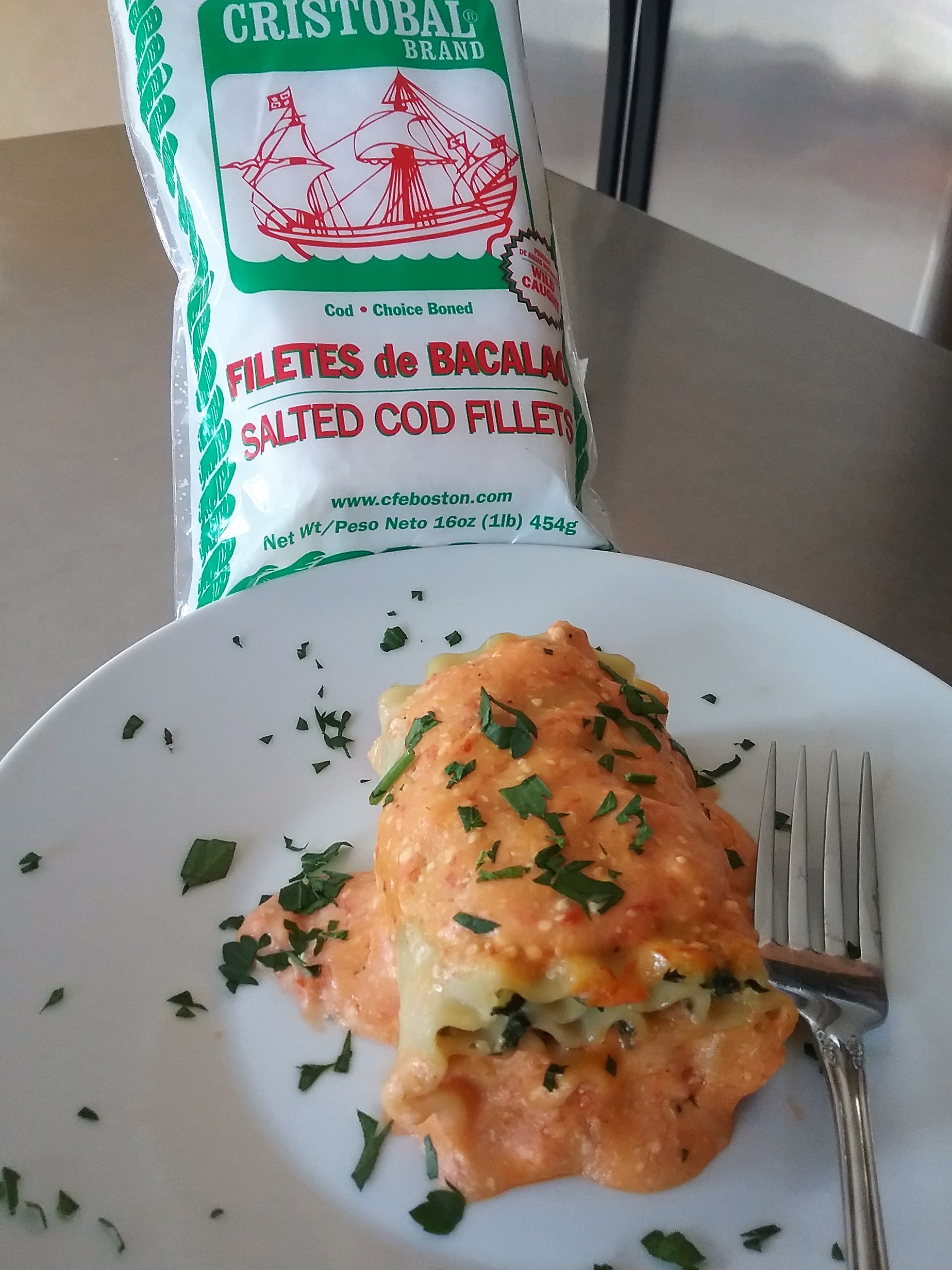 12 lasagna noodles
Filing-
1 tablespoon olive oil
½ cup onion chopped fine
2 garlic cloves minced
1 tablespoon butter
1 pound Cristobal Salted Cod prepared and chopped fine
10 ounces frozen chopped spinach thawed and drained
Zest of one lemon
½ teaspoon ground black pepper
7 ounces ricotta cheese
1 egg
Sauce-
3 tablespoon butter
3 tablespoon flour
2 ½ cups milk
2 tablespoons lemon juice
3 ounces cream cheese softened
½ cup roasted peppers pure
Pinch salt & pepper
Topping-
1/3 cup grated parmesan cheese
1/3 cup Italian parley chopped fine
Preheat oven at 350 degrees. Spray 9 x 13 baking dish with non- stick cooking spray and set aside. Boil the noodles according to package and drain.
In a non-stick pan add oil and onions sauté on medium heat 4 minutes add garlic and sauté an additional 2 minutes. Remove onions and garlic and place in a large bowl. To the same pan add butter and chopped up cod sauté 3 minutes remove from heat and let it cool for 5 minutes. Add cod to mixing bowl as well as the spinach, lemon zest, pepper, ricotta and 1 egg mix the filing until all of the ingredients are well incorporated.
In a medium sauce pan add butter and flour on medium heat whisk for 2 minutes to cook off the flour and form a roux do not brown, add milk whisk until it starts to thicken add lemon juice and cream cheese and whisk until cream cheese has melted, last to the sauce add the roasted pepper pure, pinch salt & pepper mix to just incorporate the pure into the sauce.
To assemble the roll ups place flat on a clean cutting board a lasagna noodle, spread evenly on the noodle a 1/3 cup salted cod filling starting at one end gently roll the noodle to form a firm roll do the same for the remaining noodles.
In the baking dish pour 1/2 of the sauce and place the rolls seems side down in the casserole pour remaining sauce evenly over the lasagna rolls sprinkle with parmesan cheese. Cover the dish with foil bake 15 minutes remove foil and bake an additional 15 minutes. Before serving top with fresh chopped parsley.
Information about their fabulous products can be found at the links below:
Facebook: https://www.facebook.com/BacalaoCFE/
Twitter: https://twitter.com/bacalaoCFE
Pinterest: https://www.pinterest.com/bacalaocfe/
Instagram: https://www.instagram.com/bacalao_cfe/
Also you may find their fabulous products at these retail grocery stores: Costco, Jetro, Publix, Save A Lot.