It's mango season my friends just in time for Memorial weekend I hope you all have a safe one and enjoy a cook-out or two with your family and friends and try out my ribs it's a new twist on the traditional pork spare ribs. that I promise you all are going to love! Bon Appetit!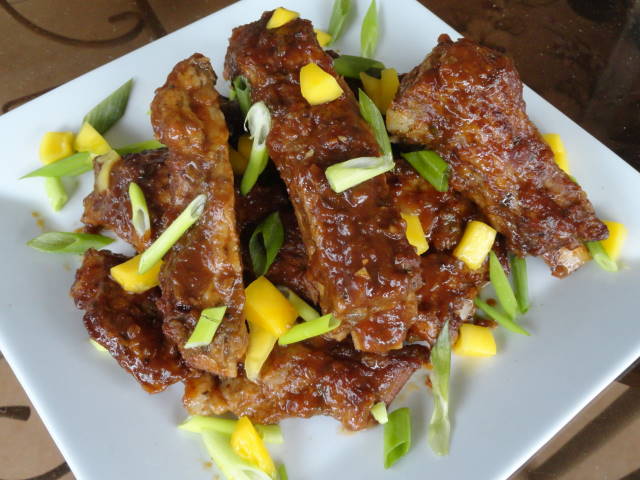 Island Style Ribs
3 pounds pork spare ribs
3 tablespoons Grill Mates Barbecue seasoning
2 tablespoons Badia Complete seasoning
1 large onion chopped
12oz beer
Sauce-
2 garlic cloves
1 small jalapeno
¼ cup cilantro
½ cup onion
¼ teaspoon cinnamon
¼ teaspoon paprika
¼ teaspoon salt
½ teaspoon pepper
1 cup chopped mango
1 teaspoon lemon juice
1 teaspoon soya sauce
½ cup ketchup
½ cup water
1oz. apple cider vinegar
3 tablespoon molasses
2 tablespoons agave nectar.
2 green onions chopped
Preheat oven 325 degrees. Incorporate both barbecue seasoning and badia complete seasoning together season generously both sides of sparerib rack.
In a large baking pan add chopped onions place rib rack on top of the onions and pour beer around the ribs. Cover with foil tightly and bake for 45 minutes.
While ribs are baking to a food processor add all of the sauce ingredients except for ¼ cup of mango to use for garnish. Pulse all ingredients in food processor until all is well blended and you have a sauce consistency. Add sauce to a pot and cook on low for 30 minutes.
Remove ribs from oven drain all of the liquid cut ribs into portion size. Generously coat ribs on both sides with sauce. Return to oven uncovered and bake an additional 20 minutes. Remove ribs from oven and brush with the remaining sauce again on both sides. Turn oven to broil and place ribs on top rack and broil 3 to 4 minutes. Plate ribs and garnish with green onions and remaining ¼ cup mango.