There are tons of redfish on the flats these days the weather is perfect cast and retrieved with a gig and you will catch them you will need to scale the fish prior to fileting it they tend to have a thick filet. Enjoy!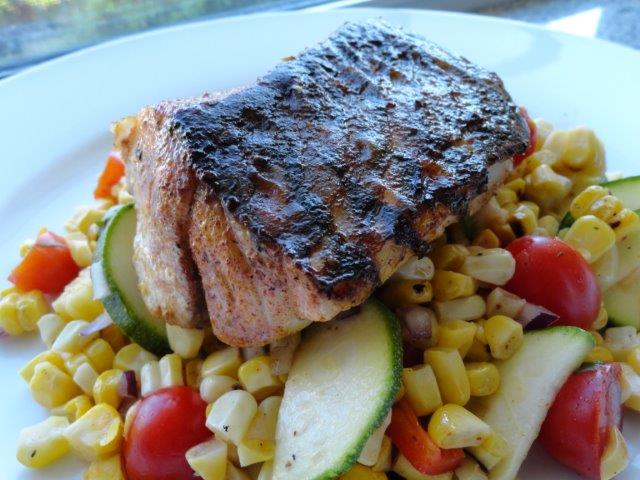 Blackened Redfish with Grilled Corn Salad
Grilled Corn salad –
4 ears of corn shucked
2 tablespoon extra virgin olive oil
1 teaspoon chili powder
1 cup English cucumber diced
1 cup grape tomatoes cut in half
1 garlic clove minced
1 tablespoon red onion minced
¼ cup fresh Italian parsley chopped
½ lemons juiced
1 tablespoon red wine vinegar
2 tablespoon extra virgin olive oil
½ teaspoon of both sea salt & cracked black pepper
Preheat your grill to medium high heat. Brush with olive oil the corn to coat well. Season well with chili powder and grill corn for 30 minutes turning it every 10 minutes to ensure corn is cook evenly all the way around. Let corn cool completely.
In a large mixing bowl using a sharp knife hold the corn straight up and slide knife to removed corn kernels all the way around.
Add all remaining ingredients and mix well. Serve immediately or cover with plastic wrap and refrigerate until serving.
Blackened Redfish
4 (4oz) pieces redfish filet with skin on
1 teaspoon sea salt
1 tablespoon blackened seasoning
2 tablespoons olive oil
1 tablespoon butter
Lemon wedges
Season fish on both sides with sea salt & blackened seasonings. On side burner of your grill on medium high in a large non stick frying pan add oil and butter when butter is melted and is very hot place fish skin side down and cook 4 minutes without messing with it you want to get a nice crispy skin. Turn and cook additional 3 minutes. Take lemon wedges and squeeze a little lemon on fish.